Pyrography Overview ¶
By: Jordan on Feb. 16, 2021, 12:59 p.m.
Pyrography is the art of burning patterns into wood. It's basically drawing with a special soldering iron. You can do it on wood, which is the most popular choice, but you can also do it on light coloured, veg-tanned leather, 100% untreated cotton canvas as well as pumpkins and squashes for a different sort of Halloween!

Why you should take up Pyrography:
Pyrography is a really unique art style and perfect if you like to play with texture in your art work.
A really interesting use for pyrography is for woodworkers who want to add a little flair to their finished pieces, or working alongside other craftsmen who have the skill to produce products but not the artistic ability to further decorate their goods.
Pyrography could be a really fun hobby for the artistically inclined and much like with our other overviews, we think this could be a really profitable venture simply by working with other craftsmen alongside undertaking your own projects.

What to look for when buying Pyrography Pens and Tools:
Variable Temperature: Like with any other tool you are buying, variability is a really important feature because it makes your life easier. Some pyrography tools only stay at one heat, and while that may be perfectly okay for the majority of applications it is always best to get one that you can turn up or down depending on your needs. With this feature, you will be able to be more creative and have more control over your individual techniques.
Solid-point vs wire-nib:
The difference between solid-point and wire-nibs is not the quality of the end result, but the time savings. If you plan to switch tips often, a wire-nib will save you a ton of time.
Solid point tips screw into the tool and are typically made out of soft brass. This metal can take five minutes or more to cool down to a temperature where you can remove the tip safely with just your fingers. You can reduce this time by using pliers to remove the solid-point, but that isn't recommended because brass is a very soft metal and you risk stripping the thread unless it has cooled down enough.
However, with wire-nib burners that use a tip/pen combination, you can replace the entire handle even when the tips are hot. You do not need to wait until the tip cools and the risk of damaging your tip is greatly reduced.
This can be a huge time saving as well as extremely convenient when you want to use different tips on one project.
Quick Heating:
When you have just started a project, you want to get going as quickly as possible. Nobody wants to sit around and wait, so keep in mind how long it takes for the tool to get up to temperature. While an extra minute or two might not seem like a big deal, if it becomes something you regularly have to wait for the irritation will become noticeable.
Adjustable Tips:
The best wood burner tool should have tips that you can interchange to achieve the results you are wanting. Ultimately you need tips that offers thick lines, fine lines and differing shapes and edges all using the same wood burning pen.
What wood to use:
All wood will work to some degree with Pyrography but you should always avoid pressure-treated wood, Medium Density Fiber (MDF), and wood which has been stained before burning. All of these woods have chemicals in them that are unsafe for Pyrography. Many experts consider the outer layer of plywood safe for Pyrography because plywood is composed of three or more thin layers of wood bonded together using an adhesive. If burning only the outer layers of plywood (avoiding the adhesive), then it is safe material for Pyrography.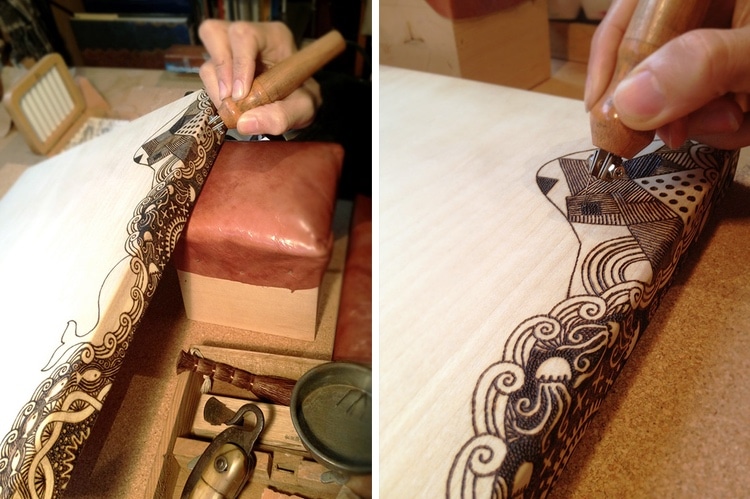 Last edited by:
Jordan
on Feb. 16, 2021, 1 p.m., edited 1 time in total.